I knew I had this group of people in front of me, 99% of whom had no understanding or respect for what I was doing. I knew I could get them on my side. Soon I had most of them clapping their hands, tapping their feet, and I even had them singing and participating."
Tommy Hunter
Put him in front of an audience of strangers, and even the most stony-faced stoics will soon be clapping and singing along with his music. With his timeless appeal, Tommy Hunter is an entertainer with a long history of involving people in his brand of country music. He's had them singing along on trains and in the finest theaters, and he's generated the same responses with TV audiences and even in people's living rooms with people who were not necessarily country music fans. This may suggest that the nickname "Canada's Country Gentleman" bestowed on him by his fans, might be just a little bit misleading. Although he's been identified with country music over the past half century, Tommy Hunter, like a great part of his loyal audiences, can't be pinned down to simply one genre of music. Gentleman, yes, but the gentlemanly style and manner is not reserved just for the country music fan.
*  *  *  *  *
It's 1946, the first year after the end of World War II. A weary planet is trying to get back to some sort of normalcy after one of the most intense wars it's ever known. Meanwhile, in the young world of video technology, an infant industry known as television is struggling – vainly it seems – to gain a little respect as having at least some commercial possibility. And in Ontario, Canada, the nine-year old son of a railroad worker, who has been tormenting his father for want of a guitar like those of his country music-singing heroes, is receiving a hard-working, hard-pressed dad's compromise: a dollar a week for lessons (and a rented guitar).
Just a month after seeing his idol Roy Acuff and his Smoky Mountain Boys on stage for the very first time, Tommy was already learning to play his first guitar chords. What he had seen on stage that night was to become not only his motivation for being a guitar-strumming country performer, but the basis for his onstage career, as well as the format that he would one day use on his own television show.
"I thought that all country performances stemmed from what Roy Acuff did. In those days he had probably the best road show of anybody. He made us feel as if we were very important people and ours was an important community to play."
"And Roy enjoyed sharing the stage with other people. All told, he was a man who set a very high standard for the performers in our business."
Armed with little other than that early rental guitar and fueled by the fervour of his contagious, wide-eyed love for country music, he took off on a path that, though circuitous, could have no other destination but "Success."
For a year the stage-frightened youngster developed his skills in front of church audiences and even patients at the War Veteran's Hospital. Then came his first paid job – a spot in the customary "variety" shows that would fill the time between features at local movie theaters. It would mark the onset of a non-stop love affair with country music and country music audiences, as well as the certain, unwavering choice of a career path for Tommy. It also marked the beginning of the evolution of a naive kid emulating his favorite entertainer, into one of the longest playing country personalities that Canadian television has ever known (not to mention his widespread impact in the U.S.)
A typical job in that earliest stage might have had Tommy catching a bus to showcase his toddling skills for a fee of a dollar or two at a garden party, or a strawberry social, or perhaps peddling his bicycle across town to perform through a cigar-smoke haze for a group of happy war veterans at a legion dinner.
As an alert performer already compiling an entertainer's bag of tricks, he was learning, even back then, to size up the crowd beforehand, in order to fine-tune his flexible 15-minute set for each individual audience. And then he would perform with all the gusto he had.
"In my mind I heard a great band behind me – even though it was only me and my guitar, just a-moving with a few newly-learned stage antics."
His love for country music would impel him down to the local record shops, with their listening booths, where he'd play the latest record by Eddie Arnold or Hank Snow. But during those early, tough times there was rarely enough money for such frivolities as records, so he'd sit in a booth with a pencil and paper, writing down all the lyrics.
"If I heard something on that record – a guitar sound, or something – I had to have it so I could learn from it. It was magic!"
Occasionally, his attitude toward performing got some tough, but meaningful, shaping. Once, after auditioning for a theatre production of a Carolina-oriented play that called for the part of a "hillbilly" singer, he was stung as the production staff began to laugh.
"I started to sing the 'hillbilliest' thing I could come up with, and they'd never heard anything like that. Well, they started laughing, and I walked out of there, just fuming."
But a disk jockey friend, who had steered him to the audition in the first place, argued him into going back. Apparently the producers really wanted him for the play. An apology cemented the deal and Tommy's zeal had soon won him some of his early converts. (Moreover, he would learn to develop a style and demeanor that would minimize and neutralize the scoffers along the way.)
Later, as the cast and crew traveled with the play for several days across Canada by train, they would call on Tommy to pick his guitar.
"I'd pick all the songs I knew that I could easily get them to participate in. And while they were all singing and a-clapping, I'd jokingly remind them of back when they had all laughed at those same songs that they were now singing along with."
(In the end, that ensemble would win a series of regional and provincial drama festivals, going on to compete in the Dominion Drama Festival, one of the most prestigious events that any amateur actor in Canada could ever perform in.) Tommy still has many fond memories of that warm group of people.
Meanwhile, the play also led directly to his debut radio show appearance when disk jockey Norm Pringle came backstage one night and invited Tommy to be on his program. Arriving at the radio station, the 15-year old singer was shocked to find himself called upon to do a "live" and totally spontaneous 30-minute "show." Instantly, an Acuff-like performer came to the forefront in Tommy, complete with all the showman patter, and, just as quickly, he discovered another of his entertainer's skills.
As he continued on his path, sometimes as a single, but often as a member of this group or that band, he also began to play the bars and honky-tonks, all the time continuing with his education in the performing arts. Then, in 1956, his career took a major spurt forward when he cracked into network TV as a regular on "Country Hoedown." After several years with his grueling TV commitment, he was also invited to host his own network radio show, simultaneously.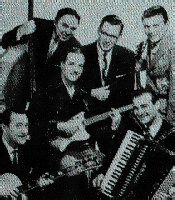 What he thought was to be a fairly casual one-or-two-day-a-week job, turned out to be a full-time, 5-day/week program. As if his schedule wasn't heavy enough, part way into this new wing of his career, the show's producer/writer was promoted away, and Tommy had to start learning to write his own radio show, on the spot.
The demanding schedule stretched his writing skills tremendously and his repertoire burgeoned. Radio's voracious attitude for music, at times found country material sometimes lean and he expanded the program's scope by incorporating pop music as well.
"Country Hoedown" had a nine year life span. Now at the prime age of 28, Tommy got his own network TV show, and in 1965 he debuted The Tommy Hunter Show – a 30 minute black and white program that would prove to be destiny's child. Reigning for 27 years as a major force in Canadian television, before leaving the air in June of 1992, the production would make history as the longest-running weekly show of its kind around the world!
When asked, at the outset, what visions he had for his brand new baby, he offered, "I'm not sure what I want, but I know what I don't want. I don't want a barn and I don't want bales of hay."
From the very beginning his aim was to bring respect and credibility to an industry that, in his words, deserved more than just a barn and a "hayseed" image. During his record-breaking run he would make it a point to involve the best writers and production people available. Over the years, the list of those he worked with included Norman Jewison, Chris Beard, Joan Tasoni, Les Pouliot, and Stan Jacobson, to name a few, all of whom helped him to set many standards for his country music TV show.
"When I got the TV show, I believed that if it was going to last longer than 13 weeks I had to broaden the show's appeal to the widest possible audience, and I felt I could do that by bringing better production values to it. In my mind, my competition was the higher quality programs, like the extremely popular, The Perry Como Show."
While still doing many personal appearances, he would "test" things out before taking them to TV.
"My secret was simple. I knew my audience and I took them very seriously. Everything that I did on that television show, I was doing in people's living rooms."
Highly popular during its long run on The Nashville Network (TNN), his program was constantly competing for the #1 spot on the network. During its run The Tommy Hunter Show has been credited with hosting virtually every major country act in North America. And, maybe more importantly, it was a vital showcase for novice artists trying to get a foot on the ladder, many of whom have gone on to major popularity in recent years, including such as Garth Brooks, Alan Jackson, the Judds, and Shania Twain. 
"Of course she wasn't Shania back then. As a teenager, we knew her as Ellie."
Tommy Hunter can lay claim to a number of "firsts" in national broadcasting, including his well-known "road show" forays into the Arctic, as well as his entertaining of troops at every major military base in Canada and performing for U.N. forces all over the world.
"The biggest thing I've learned over the years has been to respect the audience. Whenever I performed my music I tried to present it with an image of class and distinction, because I believed in it with all my heart."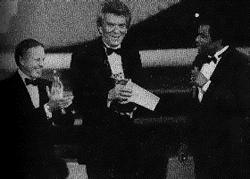 He was awarded a huge measure of respect from Nashville country television when he was asked to guest host TNN's top-rated variety show, Nashville Now for several nights. And in 1990 he received one of the ultimate symbols of a country artist's "stature" and contribution to the genre, in the eyes of country music's capitol, Nashville – inducted into the Country Music Hall of Fame "Walkway of Stars."
On March 19, 1997 he was the focus of a major black tie Tribute to Tommy Hunter at Toronto's world-famous Imperial Room of the Royal York Hotel. He celebrated both his 60th birthday and his 50th anniversary as an entertainer. Proceeds of the gala benefit were donated to one of Tommy's favorite charitable causes – the Sick Children's Hospitals in both Toronto and his home town of London, Ontario.
For the greater part of his career, Tommy has been involved with, and has used his talents on behalf of those less fortunate. He has been involved with such charitable organizations as the Cancer Society and the Heart Fund. From 1971-72, he was the National Spokesperson for the Cystic Fibrosis Foundation. For his efforts on behalf of the latter he was awarded the organization's prestigious Communications Award.
Now his time has been freed up from the production of a network TV show, to allow him ample time to devote to the pursuit of his first loves – entertaining "live" music audiences.
During the TV days there was never enough time to devote to road performing. Since 1992, he has been touring about 70 days a year in theatres in Canada and the U.S. He is still dedicated to his fans. After every concert Tommy spends countless hours in autograph sessions – that is his way of saying thanks to his audiences for their loyal support.
Each year he tours Canada extensively to keep in touch with the people who loyally watched his TV show. So many keenly remember that capacity crowds are the norm for his live stage show. "We often have to do double shows to accommodate the crowds."
His autobiography, "My Story," was published in 1985 by Methune Publishing out of Great Britain and has been re-released, with Tommy's own company handling printing and distribution.
To answer the heavy demand from his long-term TV fans, he is also involved in creating his own specialty recordings, which he markets at his concert shows and by mail order. His most recent CDs include Timeless Country Treasures Vol. 1, 2 & 3, Songs of Inspiration, Vol. 1 & 2, Readings, Tommy Hunter's Traditional Country Christmas, and Tommy Hunter Sings For You.
After an absence from network television for a couple of years, a recent appearance on "Music City Tonight" drew over 1000 phone calls at Tommy's office from 49 states in just 3 days, testifying to his enviable solidarity with his audience.
On March 16th of 2003 Tommy returned to Television to star in his first special since leaving the network eleven years earlier. The special called "Talk About The Good Times" turned out to be the highest rated CBC Sunday evening program, and according to a network spokesperson, was one of the highest rated shows of the season.
For twenty-seven years the Tommy Hunter Show provided family entertainment that has certainly not lost its appeal. Canada's Country Gentleman proved once again there is still a demand for family programming.
If one is to judge by fan reaction to his appearances, then Tommy Hunter is still making memories.
Awards
Order of Canada – his Nation's highest civilian award, given for his exceptional public career and his exemplary family life – 1986.
Order of Ontario – the highest award a province can bestow – 1996.
Broadcasting Industry "Achievement Award" – from Canada's Broadcast Executive Society -1977.
Honorary Citizen of the State of Tennessee – 1987, Kentucky Colonel – 1987.
Lifetime Achievement Award – Ontario Country Music Association – 1999.
Lifetime Achievement Award – Canadian Gospel Music Association – 2005.